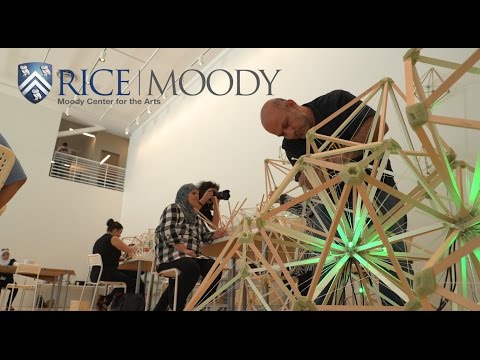 Rice University: Green light welcomes refugees to Houston
Why art matters! Print your own poster and hang where needed! A1 poster for free download:… https://t.co/jDuC0K1ySe
Opens today: Rainbow bridge, part of solo-exhibition The listening dimension at Tanya Bonakdar Gallery, New York.
"The listening dimension emerged against the backdrop of the 2016 US elections. At a time when oversimplification is everywhere, I believe that art can play an important role in creating aesthetic experiences that are both open and complex. Today, in politics, we are bombarded with emotional appeals, often linked to simplistic, polarizing, populist ideas. The arts and culture, on the other hand, provide spaces in which people can disagree and still be together, where they can share individual and collective experiences that are ambiguous and negotiable. At its best, art is an exercise in democracy; it trains our critical capacities for perceiving and interpreting the world. Yet art does not tell us what to do or how to feel, but rather empowers us to find out for ourselves." - Olafur Eliasson
Colour experiment no. 78, Tanya Bonakdar Gallery, New York
My son recently asked me whether he had saved much CO2 from being emitted into the air by using the Little Sun solar lamp I designed. He also wanted to know why, if a tonne of CO2 weighs so much, it does not drop to the ground. And where is it? To him, a tonne is heavy and physical and not an intangible mass distributed in the atmosphere. His questions made me realise how little I myself know about CO2.
When I was my son's age, back in the late seventies, there was no discussion of climate change. Nature was where I spent my summers, in a tent in the Icelandic highlands, a stark contrast to the Copenhagen I lived in. These natural and manmade realms could not be more separate. But today, there is no nature outside of
human activity. Our survival and future depend on understanding the effects of CO2 consumption and acting on that understanding.
But what do we understand? What, for instance, is a tonne of CO2? Is it hot or cold, wet or dry? Perhaps it would help to know that one tonne of CO2 could be imagined as a cube the size of a three-storey house, or that, when frozen, it would form a block of dry ice about 0.67 cubic meters in size. But what does that actually tell me if I do not know how much CO2 I produce in a year or on an average day? What does it tell me if I do not sense my interrelationship with planet Earth?
Olafur Eliasson, excerpt of contribution to UNDP's Human Development Report 2016
Trisha Brown, Watermotor, 1978 Work in progress: Space resonates regardless of our presence.
Part of The listening dimension, a solo exhibition at Tanya Bonakdar Gallery, New York. Opens March 23
Stúdíó Ólafur Elíasson - a satellite studio space in the Marshall House in Reykjavik, opens tomorrow
"The studio is really at the core of what I do. This is where I find inspiration, where felt feelings find a body, a shape. Being around materials and models, feeling the impact of collaborative social exchanges – this is how I get new ideas. My ongoing dialogues with scientists, philosophers, policy-makers, cultural agents, and, of course, my studio team are vital to my art-making process. It's in the connections between things and people that I see their potential emerge, feel their individual agency.
Opening a satellite studio in Reykjavik is, for me, a very natural step. It's another knot in the web of artistic exchanges that I've built up over the years. I've always felt emotionally very connected to Iceland; its landscape and unique light conditions have been a strong source of inspiration, and an environment in which to test artistic ideas – almost like a studio situation itself. Now I am consolidating this studio feeling by giving it a space." - Olafur Eliasson
Pebbles on the beach - new floor tile artwork for the studio satellite space opening tomorrow in Reykjavik. The artwork is made from dolerite, basalt and lava stone.
New book: Your glacial expectations - by Olafur Eliasson and Günther Vogt, with literary contribution by Josefine Klougart. Out today on Thames & Hudson